Animal Chiropractic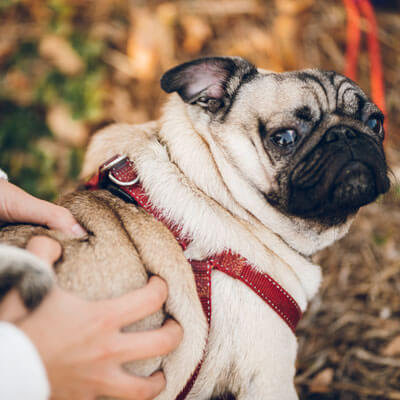 Just like humans, animals can experience spinal misalignment that can cause an array of problems. Dr. Hunter loves animals and is passionate about providing them with the same high-quality care that he gives to his patients.
He is a Certified Animal Chiropractor with the International Veterinary Chiropractic Association (IVCA). The IVCA is an international non-profit organisation dedicated to promoting excellence in the field of Veterinary Chiropractic.
Dr. Hunter makes house visits and can currently care for cats, dogs and horses.
Primary Benefits of Animal Chiropractic
You may be wondering why an animal would need chiropractic care. The primary reason why Dr. Hunter adjusts animals is, so they can move better and their nervous system functions optimally. Chiropractic also can improve joint motion if your animal has restricted movement-whether it be in the spine or an extremity.
Symptoms Animals in Pain May Exhibit
Below are some common symptoms in a dog that may indicate that pain is caused by a subluxation:
A reluctance to move
Abnormal posture
Limited performance
Changes in behaviour
Sensitivity to touch
If your horse has pain that's caused by a subluxation, here are some symptoms you may notice:
Reduced performance
Snapping and pinning back its ears when being saddled
Disobedience when jumping
A frightened expression
Swishing its tail
What Does the Process Involve?
Using hands-on palpation, Dr. Hunter will evaluate your animal to determine what the problem is. He also will observe your animal moving. For example, maybe when riding your horse, you notice that when you ask your animal to turn left, the horse doesn't turn left but fights it instead. Dr. Hunter can see if the horse won't turn its head or its gait is off.
If it's a chiropractic problem, then Dr. Hunter will perform an adjustment using his hands.
FAQ
How many treatments will my animal require?
While every case is unique, in most cases, a single treatment is not sufficient to eliminate the problem. Most animals show considerable improvement after 1 to 4 treatments. Chronic issues typically take longer to resolve, requiring more chiropractic treatment. If your animal has an acute problem, the response will be faster.
How long will a treatment take?
Please allow 30-60 minutes for the
initial consultation and first treatment
. Dr. Hunter will take a detailed case history and perform an examination. Subsequent treatments are typically shorter (between 20-40 mins) depending on his findings.
Will veterinary chiropractic treatment hurt my animal?
No, Dr. Hunter uses a highly specific, low force quick thrust along the plane of your animal's joint. The purpose of the adjustment is it helps to get the joint moving again. Adjustments address the bones, muscles, tendons and ligaments. Rest assured that an adjustment isn't painful for your animal. Only subluxated vertebrae are adjusted.
How can a veterinary chiropractor adjust a large animal like a horse?
Although horses have a substantial and thick muscle mass covering the spine, the vertebral joints are flexible. They can be moved easily using minimal force.
Book a House Visit
Ensure your animal can enjoy optimal function. Contact Lion City Chiropractic today to schedule a house visit for animal chiropractic Paya Lebar.
CONTACT US »

Animal Chiropractor Paya Lebar, Marine Parade, East Coast, Singapore | (+65) 6909 1011